Margaret Cowhig creates rare 22 karat gold jewelry. Every step, from design to finish, is done by hand. Margaret is skilled in ancient techniques. Many of the tools she uses for transforming gold into jewelry are the same that goldsmiths have used for thousands of years – hammer, stakes, fire, and pitch.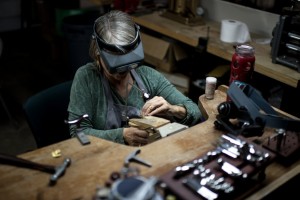 Inspired by millennia-old works of the Etruscan, Byzantine and Thracian cultures, she incorporates the intricate art of Granulation and the opulent relief work of Chasing and Repoussé. Margaret is one of a handful of people in the world who safeguard, preserve, and evolve these ancient methods.
These age-old goldsmithing arts have traditionally been used for creating jewelry in an ancient style with complex ornamental detail. They work equally well for the most modern, sculptural forms that use subtle texture as the only adornment.
The hand-made tools leave a distinct finish on high karat gold – textures Margaret does not polish away. This allows light to play in fascinating ways on the rich, earthy surface created by hammer and heat, giving her hand-crafted jewelry a unique character and substance.
Hand fabrication is detailed and painstaking. It includes alloying the gold, rolling out sheet, drawing wire, and forming a three-dimensional piece without casting and almost no solder. Each granule is individually formed and placed by hand.
Such a high level of craftsmanship takes time, limiting the number of pieces an artist can create. With patience and dedication, every piece emerges with a vivid energy and personality.
This rare art jewelry is for those who appreciate quality and understand the time, care and skill involved in its creation. Each piece Margaret creates is a timeless heirloom, meant to be passed down and treasured.