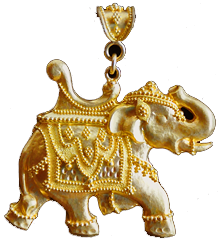 My jewelry celebrates the power of Love to create an extraordinary life. I make every piece as a reminder of the Divinity within each of us, our most expanded Being and truest guide.
I feel alive when I make art; it gives me joy and constantly challenges me to grow. Working in a hands on, intimate way with high karat gold and gorgeous gems is endlessly inspiring and energizing to me.
One of my favorite things to do is work with individual clients to create a one of a kind piece of jewelry that has personal meaning to them. I also make whatever delights me in the moment and add it to my studio collection, knowing it will eventually find it's destined owner. My passion is to create jewelry that will uplift and give joy for generations.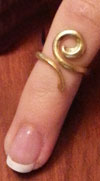 I begin with the highest quality materials: 22k–24k pure gold and gorgeous natural gemstones. From the initial design to the finished piece, I do each step by hand. Many of my tools have been in the goldsmith's hands for millennia: hammer, anvil, fire and pitch. The techniques I specialize in, Granulation, Forging, Chasing and Repoussé, have been passed down for over 5,000 years. You rarely find these techniques being brought together in modern jewelry, but they are frequently found together in ancient pieces and I find they are a perfect artistic marriage.
Because these old​world methods require exacting skill, time and attention to detail, they are not used often today, in a world which values speed and quantity over depth and quality. Yet the beauty of the textures and forms that result from hand fabrication cannot be recreated by any modern shortcut.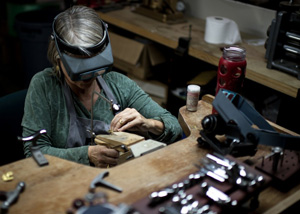 Light plays in a unique way on the rich, earthy surface created by hammer and heat, and it is one of the unmistakable qualities that give this jewelry it's character and substance. The finest jewelry is always made by hand, and I am honored to be a member of the small community of artists keeping these important traditions alive and evolving.
Making each piece of my jewelry slowly, by hand, means I can only make a limited number of pieces in my lifetime. But this is not ordinary jewelry; it is for people who are looking for something exceptional, jewelry that bears the stamp of the love, skill and consciousness that has gone into it.
This is jewelry to feed your soul, from my heart to yours.